This is the profile from my blog...
"A commercial artist by degree,
a marketing/graphic design/web builder by profession
turn SAP VC programmer now Salesforce.com Administrator;
design and fabrication of one-of-a-kind jewelry
has become my creative outlet - my addiction."


A Creative Sort...
I have been a "creative type" my whole life - from drawing and painting a little wooden Tweety Bird that my dad still has, to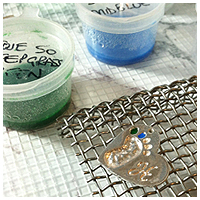 sewing, quilting, embroidery, painting, knitting, and carving. I majored in Commercial Art and took that degree from graphic design to Internet design to Marketing. I also love photography - I have always had a camera - as well as gardening, birds, camping and fishing. AND I loved my work-work - a little to much at different periods of my life (read to much work, not enough life)... which is what led me to take up carving... I was asured that one evening a week I'd leave the office at 6pm.

A career change that took me from New England to the Mid-South eventually brought on a change from creative thinking to analytical thinking. It was probably the second longest year of my life. I had so much to do but no time to really focus on any of the hobbies I enjoyed. One day I decided to just "get out" of the office and THIS is when I discovered Metal Clay - namely Fine Silver. It was like the heavens opened and the Angels sang. I finally had my separation between work and life! And I love it. I've expanded (out of necessity - have you seen the price of silver lately?) to Bronze, Copper and Sterling Silver. I also love to incorporate USA Artisan-Crafted Lampwork Beads, Vintage Swarovski Crystals and semi precious stones in cabachon and crystal form.

Although I love making custom pieces for people - it lets me personalize the piece especially for them - I also create some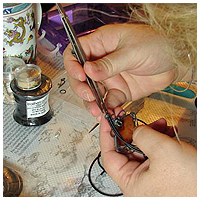 pieces out of a need to get an idea out of my head. I put these up for sale in my etsy.com shop (link below). I welcome you to please read my blog - it goes indepth into some of my pieces - the thought behind them... the personality who will receive them, and the love and parts of me that go into them.
The Kids...
I love my jewelry making addiction and taking pictures but what I REALLY LOVE are my "kids". I had a Maine Coon cat by the name of Emmett for 19 years. Shortly after he turned 15 I adopted two little 11 week old boys that looked just like Emmett did when he was little. Enter Nubbles and Wickett. Wickett followed Emmett around so much I started calling him "Emmett's Shadow". Wickett became Shadow. August of 2010 we rescued a little black "alien" looking kitty named Mikito. He was approx 8 weeks old and less than 1.5 lbs.

In 2011 my family faced many loses including Emmett (2 weeks after his 19th birthday) and little Mikito who died in his sleep 2 weeks shy of his 19th month (it looks like he had a congenital heart problem).

Nubbles & Shadow didn't seem to "bounce back" well from the loss of Emmett and Mikito so I decided to bring a little girl into the mix. As the fates would have it the baby I went to see at the shelter ALONG WITH a little black kitty (who funny enough was in cube #13 (black cat/13 get it?)) both came home with me and now Shadow and Nubbles play, wrestle, and take care of Hannah Mae (a tiny medium hair grey beauty with bronze eyes) and Magic Sissy (a medium-size, short hair all black purr machine with gorgeous eyes that look like Labradorite).

Cocoa (then a 13 year old Chocolate Lab) joined the Zoo I call home on 12/13/14. She is an old friend of the family and familiar with the crazy kitties that live here. Everyone is getting along very well and we are happy to have her call this home.